In this edition we share with you that we also carry some amazing pasta products from Portugal which also compliment Bacalhau perfectly.

Purchase them here – 
https://buyportuguesefood.com/Pasta-c128394362
When you think about pasta you might immediately think of countries like Italy (though they are still the largest consumers of pasta in the World). However, Portugal is among up there as being one of the biggest consumers of pasta in Europe and the world. 
In Portugal they consume, on average, almost 15 lbs of pasta per person per year. It definitely has a place in traditional Portuguese cuisine.
We work with the #1 Pasta maker in Portugal (Milaneza)  – You have never tasted pasta like this! It will change the way you feel mentally and physically after eating it.
Portugal's under commercialized markets allow food producers to make products with the best quality grains and patient production processes, which for pasta…makes a huge difference. The bigger faster commercial processes involve extruding pasta quickly and also not allowing adequate time for the pasta to dry in order to maximize production. 
Compared to typical pasta brands available in American stores the Portuguese Milaneza brand is:
Lighter on digestion (Stomach Gut Health is very important for your body's overall health)
Absorb and Enhance flavors
Tastes better even days after cooked. (Leftovers Shelf Life)
Less Food Waste
Here is a recipe using Milaneza's Cotovelos (Elbows) and our BomPorto Bacalhau:
BomPorto Mac&Cheese a lá Melissa:
1lb. Package of Milaneza Elbows
1lb. Desalted, Cooked Bacalhau Flakes (preferably cooked in milk)
1/2 Cup Butter
1/2 Cup All Purpose Flour
1 1/2 Cups Whole Milk
2 1/2 Cups Half&Half
4 Cups grated medium sharp cheddar
2 Cups grated of your favorite cheese
1/2 Tbsp. Salt
1/2 tsp. Black Pepper
*Preheat oven to 325 degrees F, and grease a 9×13 baking dish. Set aside.
*Prepare your bacalhau flakes, according to our desalting recommendation (from previous newsletters). Set aside.
*Mix all grated cheeses together in a bowl, and set aside.
*Bring a large pot of salted water to boil. Once boiling, add pasta and cook 1 minute less than package details for al dente. Drain and drizzle with olive oil to keep from sticking.
*In a large saucepan over MED heat, melt butter and then sprinkle in flour. Whisk to combine. Cook down for approx. 1 minute – constantly whisking. Slowly pour 2 cups of milk and half&half (combined). Constantly whisk, and combine the remaining milk and half&half until smooth.
(Once cooked through, it should resemble a semi thinned out condensed soup)
*Remove from heat and stir in spices and 1 1/2 cups of the cheeses. Stir to melt, and combine. Stir in another 1 1/2 cups of cheese until completely melted and smooth.
*In a large mixing bowl combine cooked elbows, bacalhau flakes and cheese sauce – stirring to combine fully.
*Pour half of the mixture into prepared baking dish, top with 1 1/2 cups of grated cheeses, top with remaining pasta mixture.
*Sprinkle the remaining cheese on top of the pasta, bake for 15 minutes or until cheese is bubbly and lightly golden brown.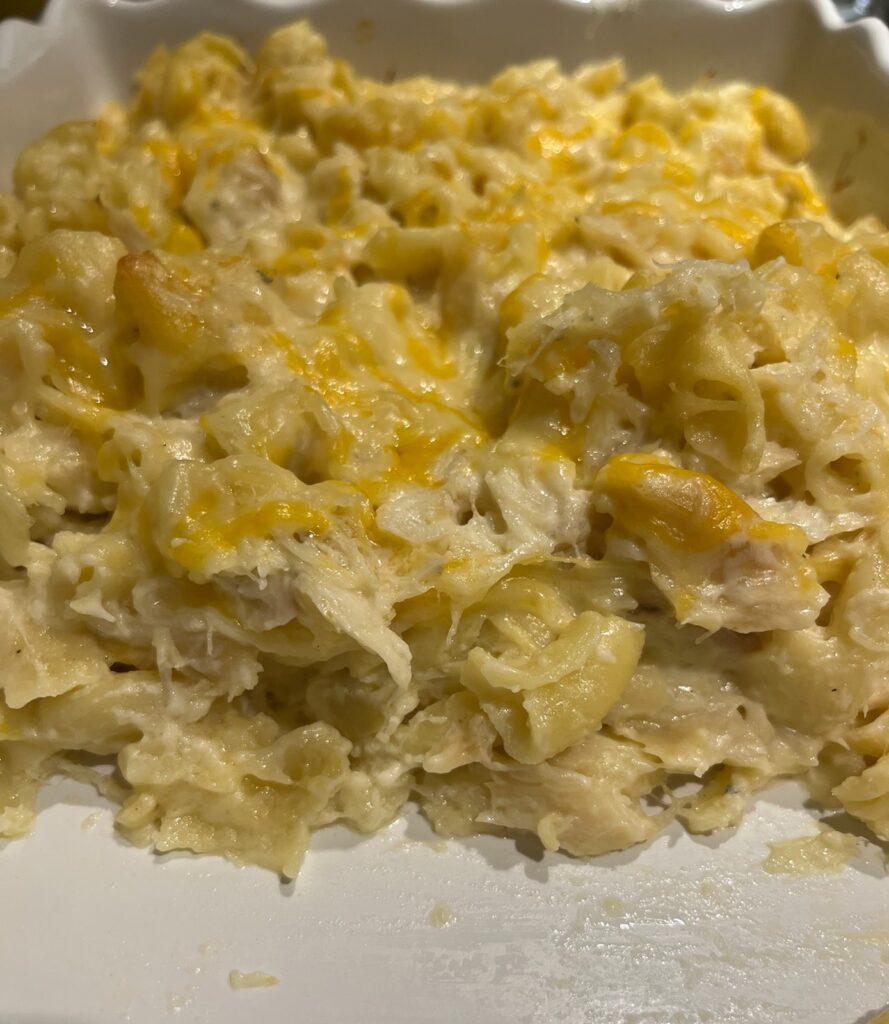 History of Pasta

While it has always been rumored that Marco Polo introduced pasta to Europe it has actually been consumed there since the time of the ancient Greeks.