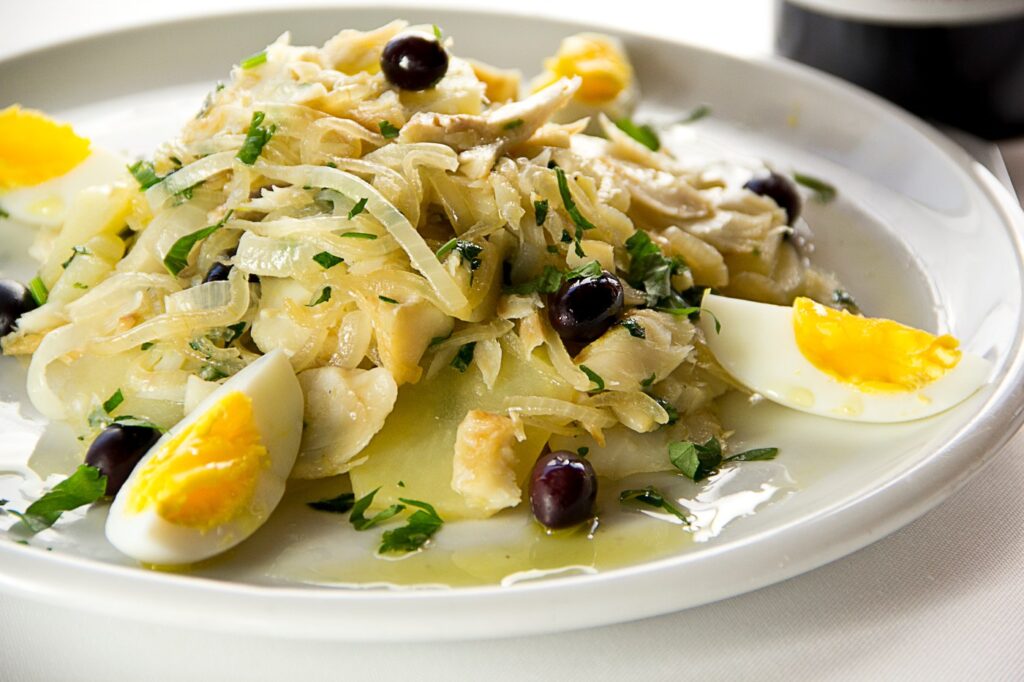 Bacalhau com Natas (Heavy Cream) [Photo Above Middle Bottom Row)


Serves 4-6, using a 13×9 Baking Dish
2lbs. desalted cod – (cooked, cleaned, flaked)
10 potatoes – cubed and fried (*There are people that like to cube/fry their own, I like using French fries **usually 3-4 large** from a local restaurant, ask them for extra crispy!  I then cut them up*)
4 onions – sliced
4 garlic cloves – chopped
1/2 cup olive oil 
Half bunch of parsley – chopped
1 quart heavy whipping cream
Salt and black pepper – to taste
Black olives (for garnish)
Begin by sautéing the onion and garlic in olive oil over medium heat.  Once golden add your cod and then potatoes.  Start adding in the heavy cream – I don't typically end up using the full quart container, but in case your potatoes absorb it quickly – it's nice to have enough so the casserole doesn't come out dry.  Add in the parsley (leaving some for garnish on top), season with salt and pepper.  Remove from heat.

In a baking dish, add your cod mixture.  Garnish with parsley and black olives.  Place in a pre-heated oven (375 degrees F).  Bake for 20 minutes or until golden.  Remove from the oven and serve.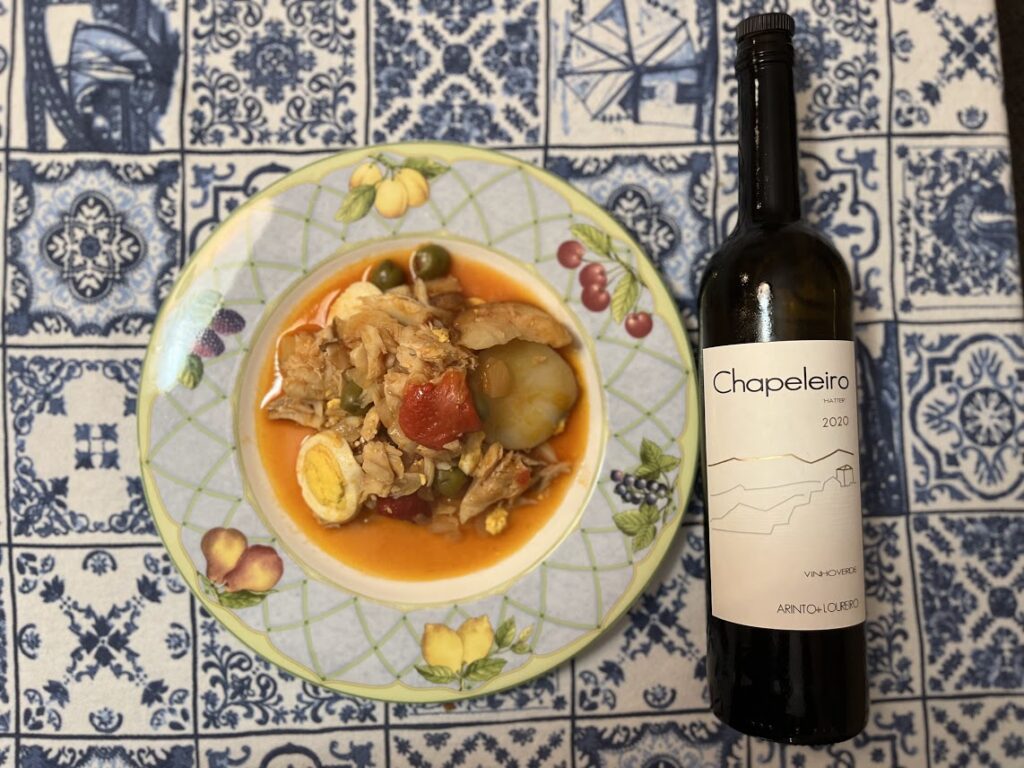 Bacalao a la Vizcaina
Basque Style Codfish Stew
Ingredients:
1lb. Bacalhau (desalted and flaked)
4 Potatoes, sliced thick
2 Onions, diced
4 Hard-boiled eggs, sliced
2 Cloves of garlic, minced
1/4 Cup Green olives
1 4oz. Jar roasted red bell peppers, drained
1 Bay leaf
1 8oz. Can of tomato sauce
1/2 cup Extra virgin olive oil
1 Cup water
1/4 Cup white wine
Preparation:
-Salt the salted cod, prior to the day of preparation. Cook and flake the fish.
-In a sauce pan, layer half of each ingredient in the following order: potatoes, bacalhau, onions, hard-boiled eggs, garlic, olives, roasted red peppers. Repeat with the remaining ingredients in the same order. Place bay leaf on top. Pour the water, white wine and oil on top. Drizzle tomato sauce evenly on and around.
-Cover and bring to a boil over medium heat. Reduce heat to medium-low and simmer until the potatoes are tender, about 30 minutes.
-Serve hot, with chilled white wine.
We altered this recipe a bit as an experiment. Usually the recipe includes cappers, sometimes raisins and is cooked mostly with the tomato sauce in each of the layers.
This is an extremely popular recipe outside of Portugal and especially during Christmas where in places like Mexico City it is the traditional way of enjoying it.
In our Portuguese recipe books there are almost no recipes with salted cod and tomato sauce that we have found and we believe that it is because the acidity of the tomato sauce changes the properties of the salted cod such as the texture so we only added the tomato sauce at the very end.
If you have some comments or suggestions about this recipe please email us at [email protected]
Bacalhau Com Linguica
Salt Cod with Portuguese Sausage
Ingredients:
2lbs. Bacalhau (desalted and flaked)
1 cup Olive Oil
4 Onions (sliced round)
2 Cloves of Garlic (minced)
1lb. Linguica Sausage (sliced)
Bread Crumbs
2 Eggs
Salt and Pepper
2Tbs. Heavy Whipping Cream
Preparation:
-In a sauté pan: add flaked cod, oil, onion and garlic. Simmer down 15 minutes stirring occasionally. Once onion is translucent, add the sausage.
-Once cooked, add in 13×9 casserole and coat with bread crumbs.
-Mix eggs and heavy whipping cream and pour over the casserole.
-Bake in 350 degree oven until golden.
-Serve hot.
Bacalhau com Broa (Lower Right Photo)
Demonstration video:
Serving 4 to 6
Ingredients
3 Large Yellow Onions (thinly sliced)
3 Cloves of Garlic (sliced)
2 lbs Salted Cod Flakes (desalted & cooked)
200 ml Extra Virgin Olive Oil (Portuguese Preferably)
1 Corn Bread (processed into crumbs) (preferable Portuguese Not Sweet Corn Bread or use Corse Bread Crumbs (i.e. used when making stuffing)
Parsley, finely chopped Salt & Pepper (to taste)
Preparation
1. Sauté bacalhau in olive oil for 10 minutes Place into Pyrex casserole dish
2. Sauté Onions and garlic in oil (using the same pan with the fish)
3. Once onion is translucent, add the bread crumbs and parsley.
4. Cook 10 minutes, adding salt and pepper (to taste)
5. Place onion and cornbread mixture over Bacalhau, drizzle with olive oil.
6. Bake, uncovered 20-25 minutes at 350 degrees in the oven.


Step by Step: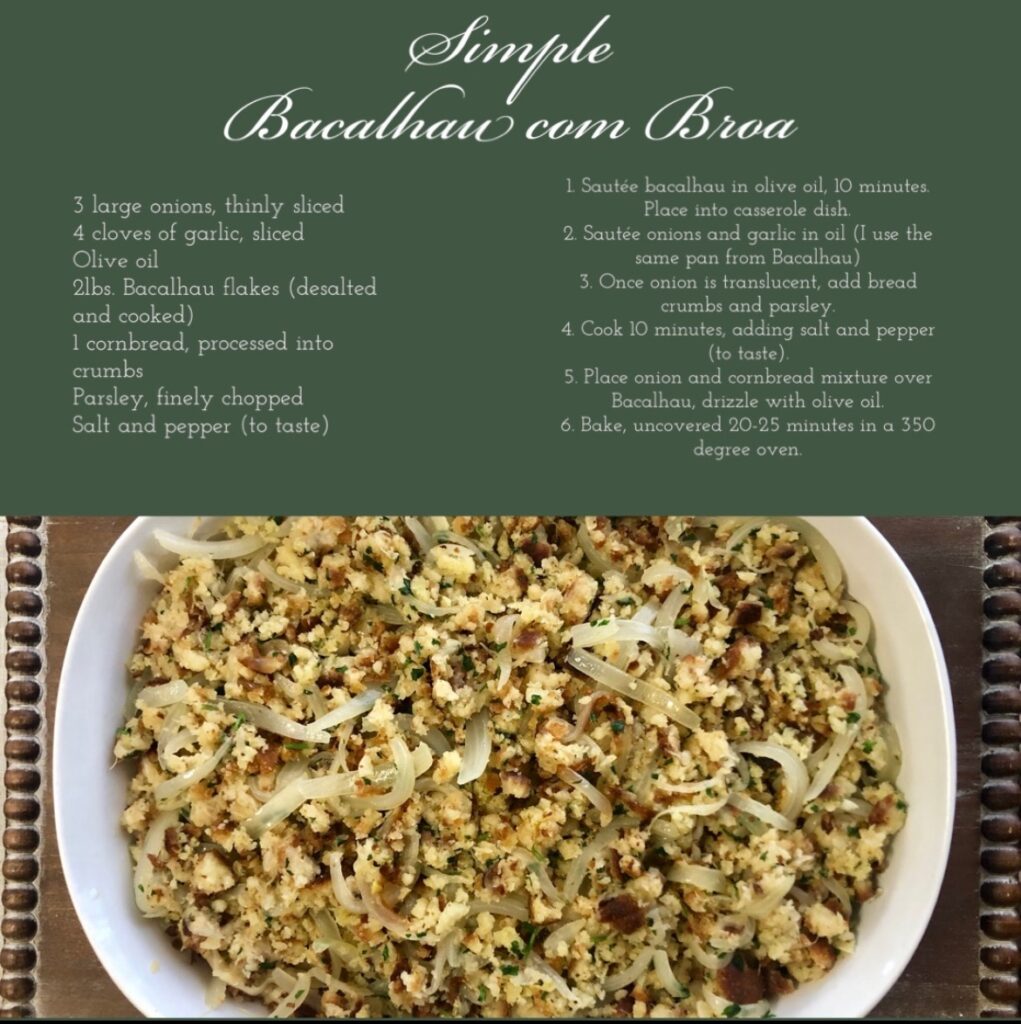 Bacalhau à Brás (Top Right Photo)
Ingredients :
• 1 Lbs (454 g) BomPorto Shredded Cod
• 2 Lbs (908 g) Potatoes
• Olive Oil
• 4 Eggs
• Parsley
• Black Olives
• 2 Garlic cloves
• Onion
• Oil to fry
• Salt
Step by Step:
Desalt your Bacalhau (Click here to read about it)
Peel the potatoes, slice them thin (straw potatoes) and wash them in cold
water.
Rinse them thoroughly and fry them (few at the time). You can use pre-fried
potatoes, as an alternative.
Whisk the eggs.
Heat the olive oil and the garlic in a large bowl. Then, add BomPorto Bacalhau
and stir until it fries a little.
Add the fried potatoes and stir carefully in order not to mash them.
Add the eggs and stir occasionally until the eggs are softly set.
Garnish with olives and sprinkle with chopped parsley.
Watch a demonstration video for making this dish by BomPorto in house
chef. https://youtu.be/cvSmYoI_CgE
Bacalhau à Ze do Pipo: (Photo Above – Middle Row on Right)
Ingredients :
2 bacalhau loins (1.5lbs to 2lbs in total)
700g potatoes
125ml olive oil
2 garlic cloves, round slices
2 large onions, round slices
1 bay leaf
flour, for coating
40g butter
80ml milk
1 egg yolk
125g mayonnaise
red pepper, cut into strips
salt and pepper, to taste
Step by Step:
Desalt your Bacalhau (Click here to read about it)
Place potatoes to cook for around 25 minutes. After they are cooked, drain and
puree.
Place the pot containing the pureed potatoes over heat adding the butter and
milk. Salt and pepper, to taste. Add the egg yolk. Once all has been combined
and the butter melted, turn off the heat. -Set aside.
Coat the loins in flour and fry until golden brown. Place the loins (skin side
down) in a baking dish/casserole. – Set aside.
In the same pan you fried the bacalhau sautee the onion, garlic and bay leaf.
Once the onion has cooked down, remove from heat and place evenly over the
loins. Cover the loins with mayonaisse and pepper strips.
Pipe the potato puree around the loins, filling the baking dish.
Bake at 425 for 20 minutes.
Garnish with olives and sprinkle with chopped parsley.
Watch a demonstration video for making this dish by SaborIntenso:
https://www.youtube.com/watch?v=2uFOrrEoJv8
Bacalhau Assado (Grilled Salted Cod Fish): (Photo Left Side Middle)
Ingredients:
1 – 2 Center Cut Loins of Salted Cod Fish
Olive Oil and Chopped Garlic
Step by Step:
Once the fish has a firm flaky texture / definition remove from the grill and serve.
Step 4 – Turn on its sides (repeat step 2 & 3)
Step 3 – Carefully drizzle additional olive oil as it is cooking.
Step 2 – Place on the grill (skin side down first preferably) and place bits of
chopped garlic on top.
Step 1 – Once the fish has been desalted to your taste brush on olive oil.
If somehow you end up with some left over pieces of the Bacalhau loins there are
lots of great (left over recipes). That is another remarkable characteristic of this
fish in that you can use it again the next day in other preparations. Something
that is not popular or possible with other types of fish/seafood. The curing of the
cod fish gives it characteristics more similar to meat which allow for endless
possibilities.
Pataniscas de Bacalhau (Bacalhau Cakes)
Ingredients:
• 10.6oz (300g) of Bom Porto Cod Slices
• 3 Eggs
• 8.8oz (250g) of Flour
• 1 pint (0.5l) of Milk
• 1 chopped Onion
• 2 chopped Garlic cloves
• Chopped Parsley
• Pepper, to taste
• Salt, to taste
Step by Step:
Remove flake remaining loins and remove any bone and skin.
Whisk the egg whites until stiff.
Add to the fish, the flour, the egg yolks and the whisked egg whites.
Season with parsley and add milk.
Check the seasoning and fry it in oil.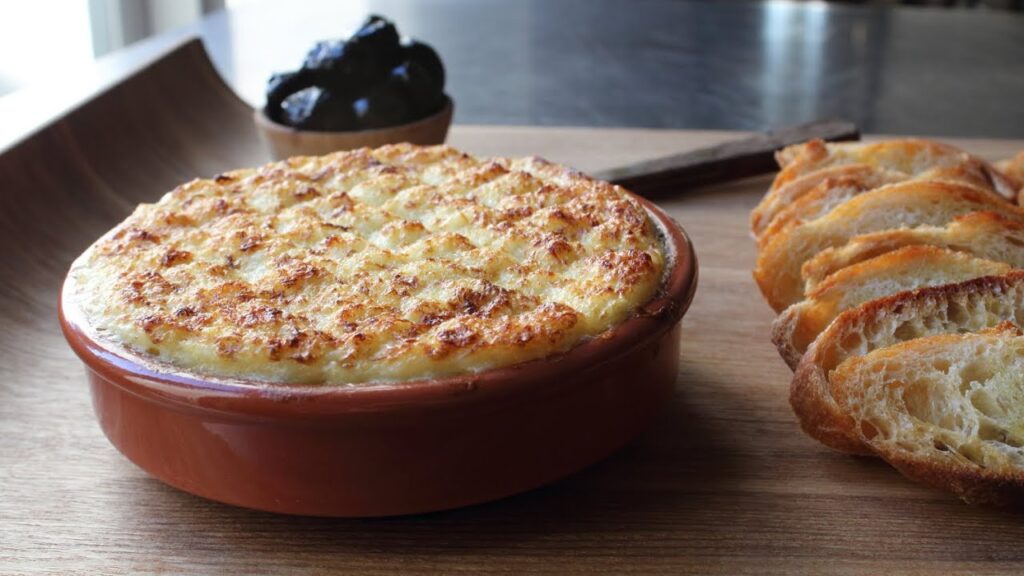 Brandade (Creamy Salted Cod Bread Dip)
Ingredients
1 pound de-salted cod fish
1 ½ cups whole milk
6 sprigs fresh thyme
2 bay leaves
1 pinch cayenne pepper
1 pound Yukon Gold potatoes, peeled and cut into 2-inch chunks
8 large cloves garlic, halved
1 teaspoon lemon zest
¼ cup extra-virgin olive oil, divided
½ lemon, juiced
1 pinch freshly ground black pepper

Directions

Stir cod, milk, thyme, bay leaves, and cayenne pepper together in a pot over medium-high heat. Cook until fish begins to flake; 7 to 15 minutes. Remove from heat and strain; reserve cooking liquid and transfer fish to a bowl.
Place potatoes and garlic in a large pot and cover with water; bring to a boil. Reduce heat to medium-low and simmer until tender, about 20 minutes. Drain.
Mash cod, a few splashes reserved cooking liquid, and lemon zest together in a bowl. Pour in remaining reserved cooking liquid and potatoes; mash until desired consistency is reached. Stir in 1/2 of the olive oil, lemon juice, and black pepper until smooth. Add remaining olive oil and blend until smooth. Season with salt. Pour mixture into prepared baking dish. Score the top with a spoon to create a crisscross surface.
Bake in the preheated oven until browned and bubbling, about 20 minutes.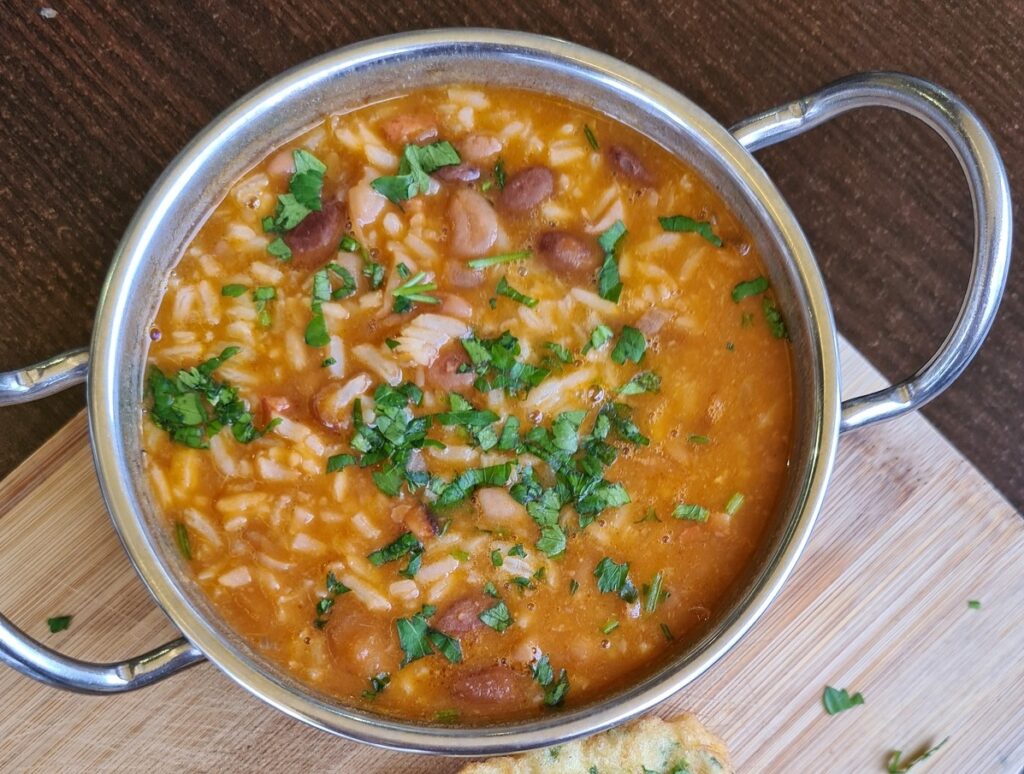 Arroz de Bacalhau Com Feijão (Rice and Bean Stew with Salted Cod)

Ingredients
• 1 onion, chopped
• 1 clove of garlic, minced
• 2 TBS olive oil
• 2 "posta" cuts of Bacalhau (or approx 1lb. De-salted, flaked Bacalhau)
• 1 TBS tomato paste (https://pt.petitchef.com/ingrediente/tomate)
• 2 tomatoes, diced
• 1 (14oz) can red kidney beans
• 1 1/2 cups of rice
• 1/4 cup water
• 1 vegetable bouillon cube
• parsley, chopped
• salt and pepper

Preparation
• Sauté the onions and garlic in olive oil, over medium heat. Add the Bacalhau. Mix and add the tomato paste, beans, and tomatoes.
• season with salt and pepper, and add the rice. In a separate pot – boil the water and bouillon cube.
• Add the water to the pot containing all other ingredients and cover, cooking the rice over a low heat. Once the rice is cooked, remove
from heat, garnish with parsley and serve.